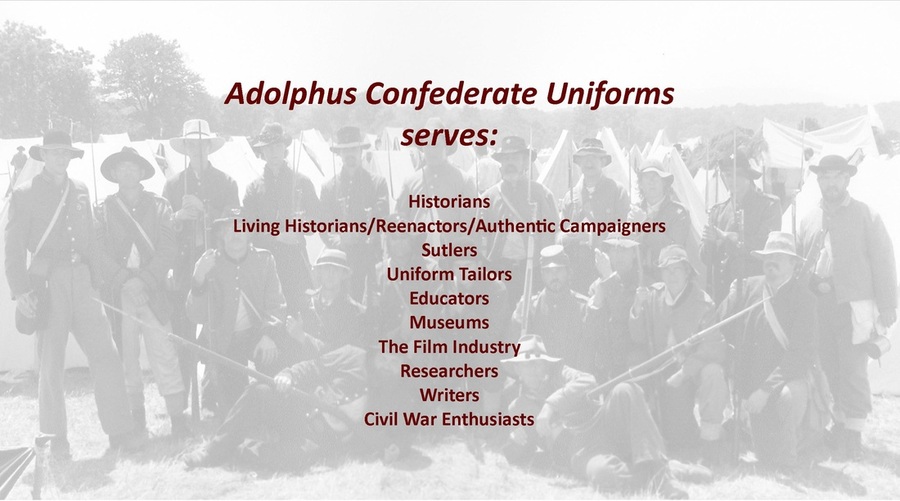 Welcome to Adolphus Confederate Uniforms! Our goal is to provide scholarly research regarding Confederate uniforms that is both informative and interesting. We hope you enjoy the variety and quality of the content offered on each page.

In addition to providing the articles, detailed uniform images, and research of Fred Adolphus, we offer Volume 1 in his Civil War Sesquicentennial Uniform Series:

_Imported Confederate Uniforms of Peter Tait & Co.,
Limerick, Ireland


---
Imported Confederate Uniforms of Peter Tait & Co., Limerick, Ireland is an illustrated reference book about the most famous imported Confederate uniform of the Civil War. It is, to date, the only reference that includes documentation and photos of every known, surviving Peter Tait uniform. A total of 126 color images document these uniforms, along with several additional black and white photos from the war era. Readers will not have to squint at these pictures, as the book is printed in a generous 8½" x 11" (21.5 cm x 28 cm) format, allowing for large images with crisp detail.
It features full-color ph
otos offering different perspectives and close-ups of:
construction details
lining
stitching
size stamps

...and...


It contains full-color images of every button ever used on Tait jackets showing:
In addition to the detailed photos, there is well-documented text specifying the number of uniforms delivered to the Confederacy and the places the soldiers wore them. The provenance of each jacket is included along with the soldier's service record. The usage of these uniforms in the Army of Northern Virginia, the Carolina Campaign, the Mobile Garrison, and the Department of the Trans-Mississippi proves that this was the Confederacy's one truly universal uniform, if there ever was one.

Adolphus' research is backed by 67 endnotes, almost every one of them from primary sources and original Confederate documents. Far from an exercise in conjecture, this study fills a void with fact after fact about the acquisition, delivery, and use of the Tait uniform. The author also makes it plain that Tait was not the only one to make the "Tait" uniform: Alexander Collie and Hebbert & Co., London made their share, as well. The book thoroughly documents the contribution of Ireland and Great Britain to the Southern armies. Imported Confederate Uniforms of Peter Tait & Co., Limerick, Ireland is a "must have" for the serious Confederate uniform buff, Civil War historian, and anyone interested in an authentic Civil War portrayal for living history/reenacting events, as well as video presentations depicting the war.

---
---
---